Delve into the Heart of Yamadera
Guided Tour in English to Yamadera Okunoin Hall
Welcome to the Yamadera Guided Tour in English, a new tour program for overseas visitors organized
by Yamadera Tourism Association.

While walking up the steps of the Yamadera mountainside alone is an experience to remember, this guided tour in English offers you a glimpse of Yamadera's historical and cultural background, along with little-known stories shared by local residents, helping to make your time in Yamadera an even richer and more enjoyable experience.

Enjoy a side of Yamadera unknown even to Japanese visitors to the region.
Book Now
Tour Title
Guided Tour in English to Yamadera Okunoin Hall
Tour Outline
Enjoy a guided tour in English from Konponchudo Hall, the main hall of the Yamadera Risshakuji Temple complex, to Okunoin Hall, the uppermost building located at the summit of the 1015-step walk up the Yamadera mountainside. Your guide will provide you with a view of the many sides of Yamadera, from its natural environment to the history, culture, and spiritual beliefs of the region, along with episodes known only to local residents. Tour participants will have the opportunity to enjoy the seasonal beauty of the area and may enjoy encounters with Yamadera residents, or perhaps even local fauna, on their way. After paying their respects at Okunoin Hall, where the religious teachings and ascetic practices of the Buddhist Tendai sect continue to be observed, participants will say goodbye to their guide and proceed back down the mountain at their own pace. They can savor their surroundings anew as they stroll back down the stone path to the foot of the mountain, where they may explore the varied offerings at local shops. Participants will be provided with a discount coupon which may be used at these shops, known for the friendly local shop people who always offer visitors a warm welcome.
Program Highlights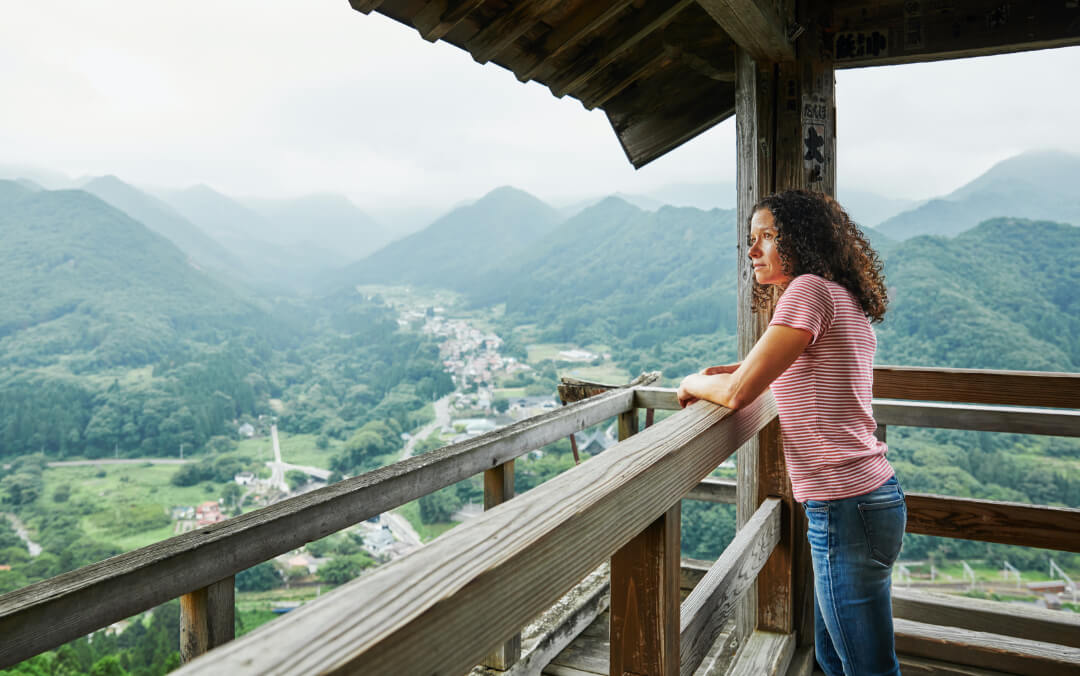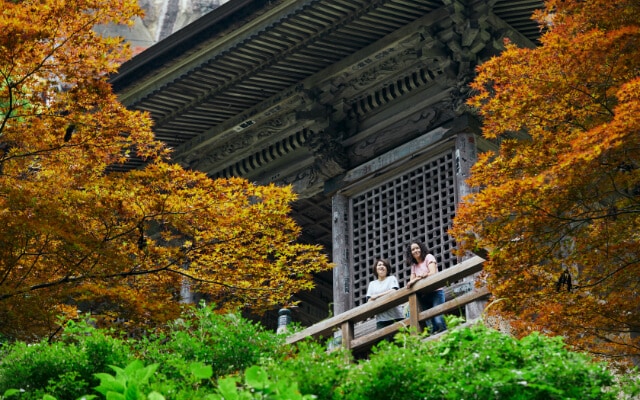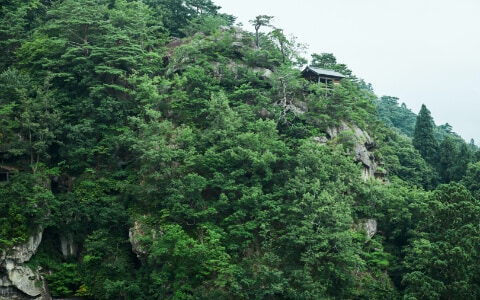 Matsuo Basho
Matsuo Basho, Japan's most famous haiku poet, made a special trip to Yamadera during his "Narrow Road to the Deep North" journey to northern Japan in 1689. Climb up to the Godaido observation deck to see the panoramic view which so impressed Basho, and perhaps you may glimpse a local train running through the countryside.
Eternal Flame

In Konponchudo Hall, view the "eternal flame" which has been burning continuously ever since the establishment of this temple over 1100 years ago.

Ubado Hall

A small wooden structure houses Datsueba, a fearsome-looking old woman. Learn about the role she plays in Buddhist mythology, and the story behind her intimidating appearance.

Midahora Rock

Look carefully, and see if you can find the image of the Amida Buddha in this rock face, something which is said to bring the viewer good fortune.

Stone Path

As you walk up the 1015 steps that lead to the summit of the Yamadera mountainside, feel your worldly desires disappear and your heart fill with peace.

Nokyodo

This picturesque small building has graced the covers of many magazines and is one of the most photographed structures in Yamadera. It is used for storing sutras, and the bones of Jikaku Daishi, the priest who founded Yamadera, are said to rest in a cave below this building.

Niomon Gate

Those who pass through this gate must withstand the fierce glare of two fearsome Nio guardians, and prepare to be judged by Enma, the King of Hell, and nine judges of the afterlife who are seated within.

Daibutsuden Hall and
Okunoin Hall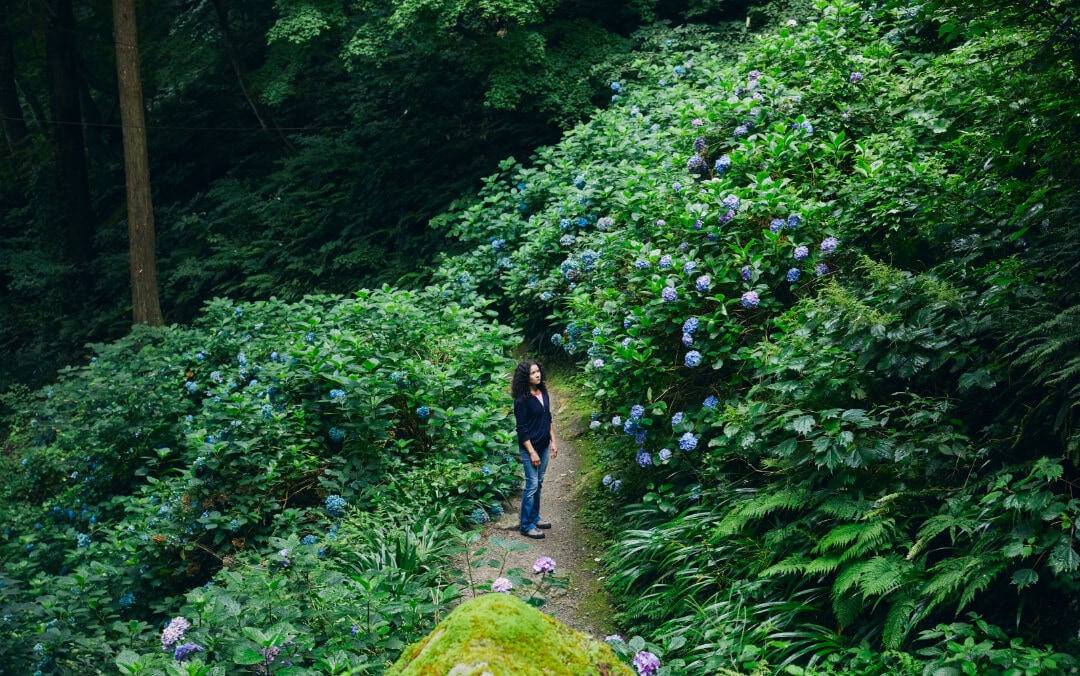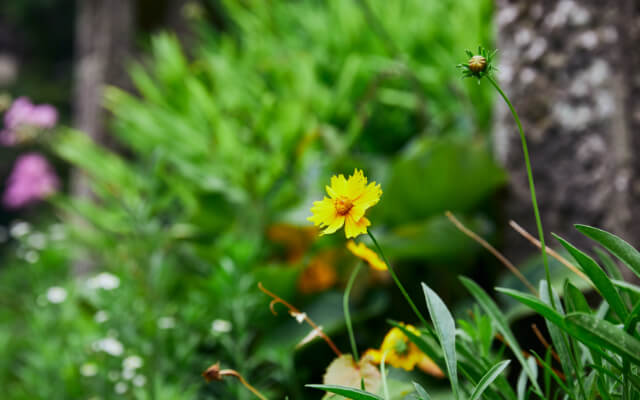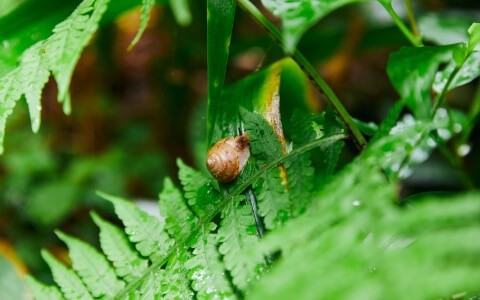 Local flora and fauna
Yamadera, literally "mountain temple," is indeed a temple located on a mountain hillside filled with local plants, insects and wild animals. Enjoy the flowers and plants of the various seasons, and perhaps you will even encounter some of the local wildlife.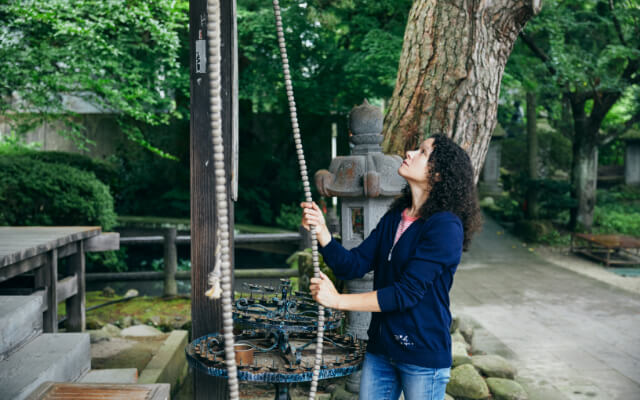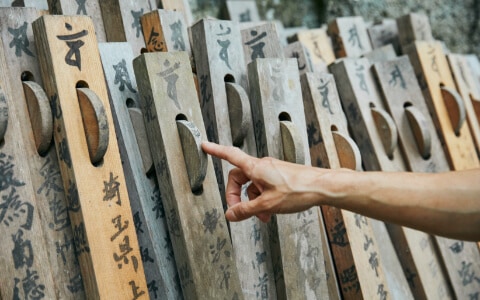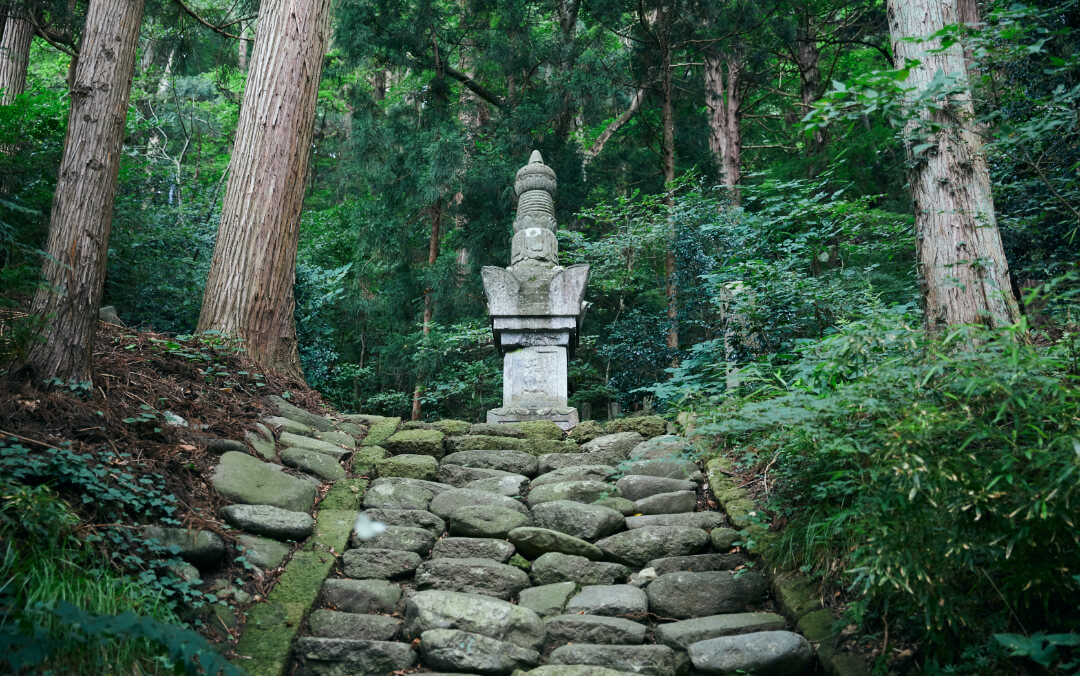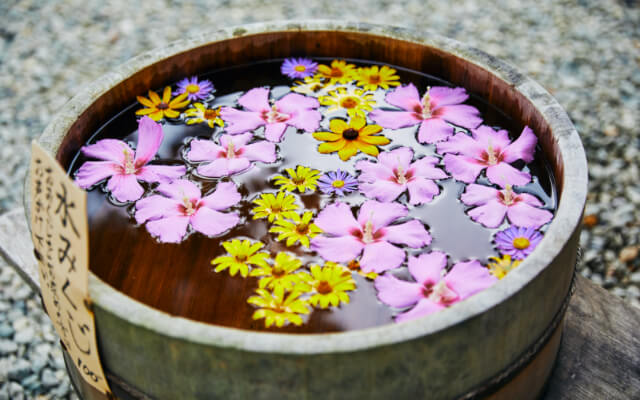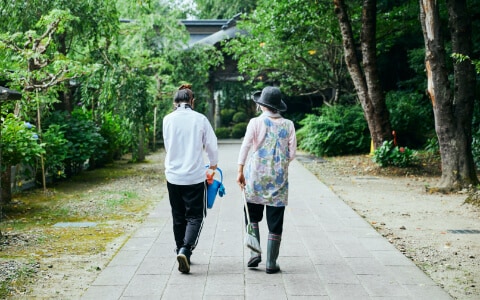 Regional beliefs
Spiritual belief is an organic part of local life in Yamadera, where you will find nature, culture and religion naturally woven together.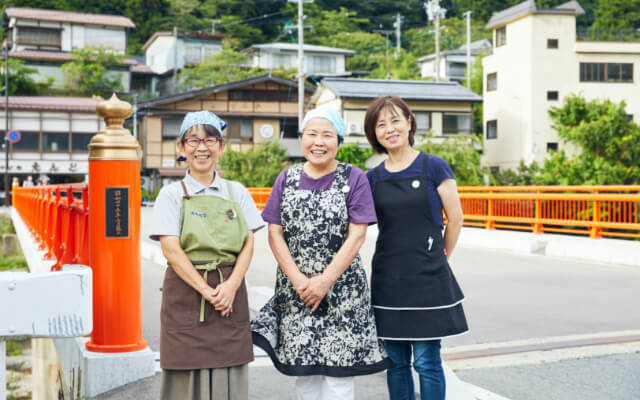 Local shop ladies
The shop ladies who run Yamadera's local stores are well-known for their ebullient personalities and friendly smiles.
Photo by Isao Negishi
Tour Details
Leave your car and/or belongings at one of

these shops

, and check in at Fumotoya Mountain Entrance branch by 9:45 AM, where you will meet your guide.
The guided tour up the Yamadera mountainside will start from the Fumotoya Mountain Entrance branch at 10 AM.
After reaching and paying your respects at Okunoin Hall, located at the mountainside summit, the guided tour will end. You will part ways with your guide and proceed back down the mountainside at your own pace.
You will be provided with a discount coupon which may be used at local Yamadera shops.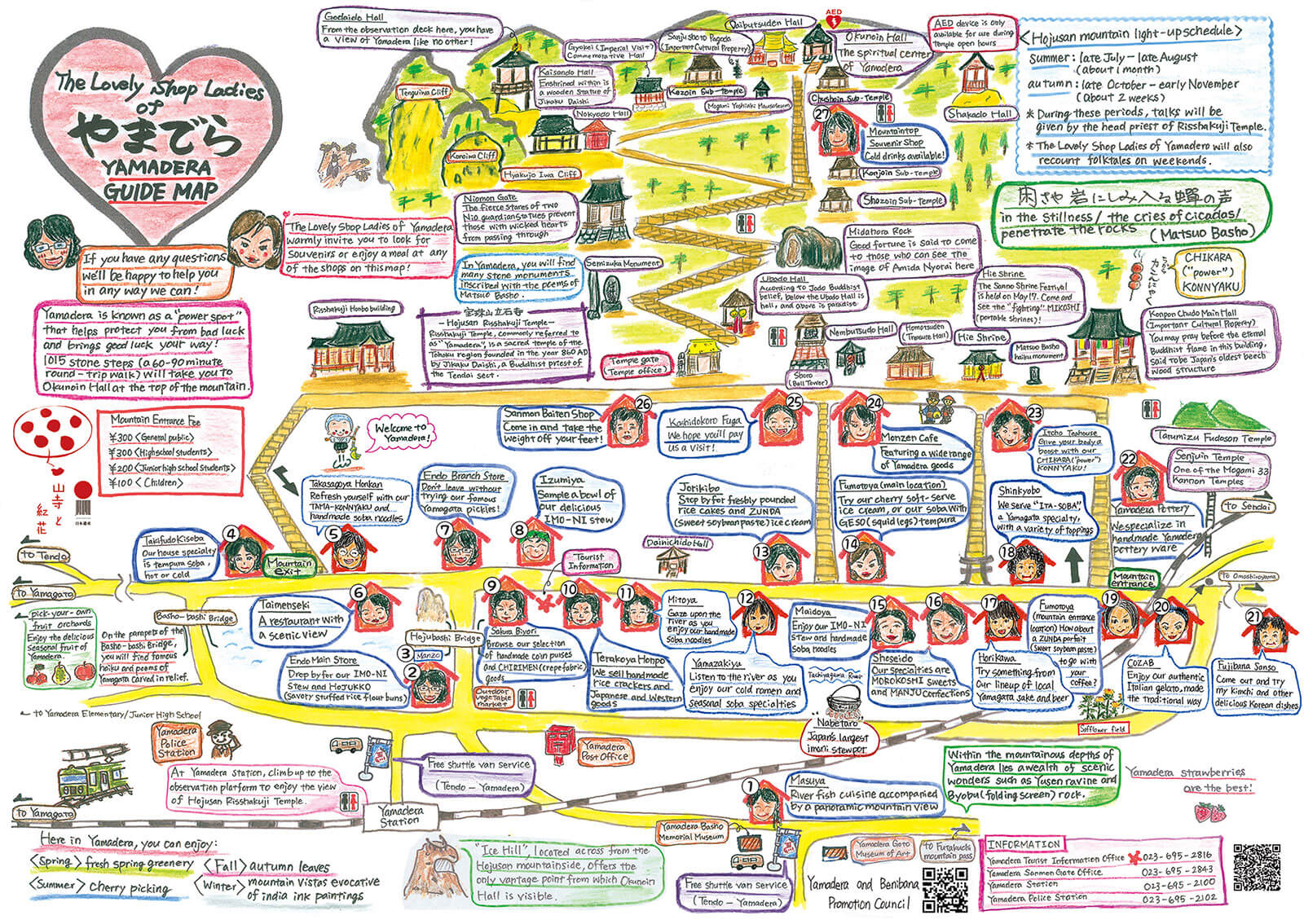 Tour duration
Approximately 90 to 120 minutes.
Tour includes
A guided tour in English, entrance fees for Konponchudo Hall and Risshakuji Temple mountainside, insurance (minimum coverage for accidents), an illustrated local guide map (in Japanese and English), and a 500-yen discount coupon which may be used at

these shops

.
What to bring
- Weather appropriate clothing
- Sturdy shoes (you will be walking up 1015 stone steps)
- Something to keep you hydrated
- Rain gear (to be safe)
- Cash (most shops only accept cash)
- Small change (if you'd like to make a monetary offering)

Minimum number
of participants
1 person
Maximum number
of participants
6 persons
*Please contact us if your party is larger.
Available
language
English
How to get here


[By car]
From JR Yamagata station: 30 minutes
From Yamagata Airport: 30 minutes
From Tendo Onsen Hot Springs: 15 minutes
From Zao Onsen Hot Springs: 60 minutes
From Sendai: 90 minutes

[By train]
From JR Yamagata station: 20 minutes by JR Senzan line
From JR Sendai station: 50 minutes by JR Senzan line
From JR Tokyo station: 2 hour 40 minutes (90 minutes by shinkansen to Sendai, and 50 minutes by JR Senzan line to Yamadera)
*10-minute walk from Yamadera station


Cancellations
For information on our cancellation policy, please click here.
Health and safety
Participants should be physically capable of ascending and descending 1015 stone steps. We recommend sturdy trekking or walking shoes. This tour will take place in light to moderate rain, but may be cancelled in heavy rain or typhoons. We ask participants to wear suitable attire and take appropriate precautions in the case of rainy or cold weather. Participants should refrain from participating if they have symptoms such as cough, fever, or listlessness (lack of energy). We will ask participants to fill out a health check sheet at the beginning of the tour, and their temperature will also be measured. Any participant with a temperature of 37.5°C (99.5°F) or above may be asked to refrain from taking part in the tour.
Tour meeting
point
Fumotoya Mountain Entrance branch
4439 Yamadera, Yamagata city, Yamagata
Tour ending point
Okunoin Hall (located at summit)
Book Now
Tour Price
Click here for detailed pricing, information, and booking.
Book Now
Guide
Your Guide
Yamaderans belongs to the Yamadera Tourism Association, and we provide guided tours in English to foreign residents and visitors. We come from various backgrounds but have one thing in common. We love Yamadera! Let us share our love for Yamadera with you and join us to enjoy the beautiful scenery, history, and culture of Yamadera.